Yesterday was a sad day for me... But my wife brightened it up!!!
darkhorse419

Topic Author

Fresh Boarder
Posts: 46
Thank you received: 1
darkhorse419 created the topic: Yesterday was a sad day for me... But my wife brightened it up!!!
Yesterday I had a tragedy in one of my tanks that left me feeling very bad and kicking myself because I knew better.... Yesterday at feeding time, we noticed our Lutino Oscar(Pinky) wasn't out front like normal so I started looking. Immediately I found Pinky back behind the pirate ship with a blue tail sticking out of it's mouth!! She (what we consider it) caught my Electric Blue Jack Dempsey that was the EXACT OPPOSITE of every other one I had found - never hid, always social, and very blue!!! By time I noticed I knew it was too late, but Pinky was NOT getting a $30 dollar meal!!! SO I netted her and pulled Baby (EBJD) from her mouth to give a proper burial (Have little kids that loved the EBJD)!!! I know it's not safe, but I was not thinking clearly yet... So RIH Baby, sorry your keeper put too much faith in his "Gentle Giants" and forgot that nature is stronger than nurture. I think we all make stupid mistakes from time-to-time, but it's what we learn from these mistakes that is important!!! So wife knew I was sad and beating myself up over the whole ordeal, and snuck herself over to our favorite LFS while I was moping. She knew that had just got in a shipment of EBJD's, and was going to grab one to surprise me (Even though it wouldn't have replaced Baby to me....) but she said they were all very shy and not very colorful (Not to mention she said they were only slightly larger than Baby and was scared)... Oh well, not meant to have an EBJD now... BUT.... BUT.... She said she was walking back out and said the Oscar tank caught her eyes, she couldn't believe what she was seeing... They had red tails and the MOST GORGEOUS red oscars she had ever seen at regular tiger oscar prices!!! (She remembered me looking at Rapps and seeing the red tails and wanting one, and she wanted a Red from beginning but none tickled our fancy) So what does she do?? Picks out the best of each she could find and brought them home!!! So now I have 4 Oscars (She knew 3 was a definite no-no, and knows we have other tanks if 4 didn't work) and over-stocked!!! That's only 1st phase of her surprise... She then proceeds to tell me that she wants to get this 210 gallon that is at the LFS on display for all 4 and reseal my other 210 and build a fish room for me to enjoy all my fish!!!! My Sunday was soooo awesome after starting soooo poorly, and it is one thing to have a wife/husband/partner(I don't judge if doesn't affect me) that allows the hobby..... BUT IT IS A WHOLE OTHER STORY WHEN YOUR WIFE/HUSBAND/PARTNER EMBRACES AND GETS MTS LIKE YOU DO!!!! Here is an attempt at posting the pic, still learning the photobucket stuff... Picks don't do either justice, they are MUCH colorful in person!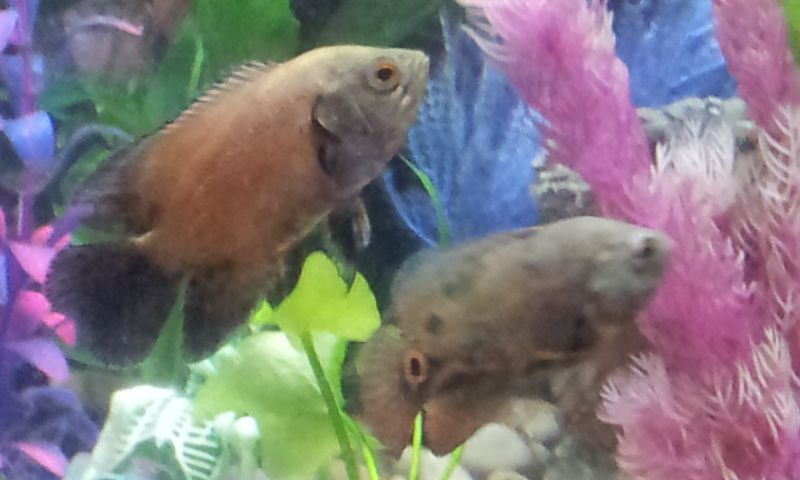 5 years 2 months ago
#374674
Please Log in or Create an account to join the conversation.
jmunroe

Gold Boarder
Posts: 1759
Thank you received: 195
jmunroe replied the topic: Re:Yesterday was a sad day for me... But my wife brightened it up!!!
Not a true story. Urban myth. Doesn't happen. Never will happen. Haha lol. Just kidding. Please tell her I love her. Your a lucky man. Thank you that is all.
---
Go do a water change - the solution to pollution is dilution.
5 years 2 months ago
#374724
Please Log in or Create an account to join the conversation.
Moderators:
Big-Ken
,
DRACO
Time to create page: 2.741 seconds