Damaged Oscar
jmonyok

Topic Author

Fresh Boarder
Posts: 6
Thank you received: 0
Stalker

Junior Boarder
Posts: 100
Thank you received: 8
jmonyok

Topic Author

Fresh Boarder
Posts: 6
Thank you received: 0
jmonyok replied the topic: Damaged Oscar
I wanted to thank everyone for the help with "George". While he is not completely healed, he is getting much better and starting to heal. He is much more active and eats like a pig once again. I followed all suggestions by removing two fish, feeding the Epson salt food, and the added a Cascade 1000 filter. All Nitrates and Nitrites are gone and he is showing a beautiful black and orange colors. His head is still bumpy but I don't care so long as he is well. New photo to show scales starting to comeback to head. Appreciated.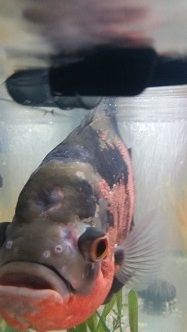 1 year 10 months ago
#410462
Please Log in to join the conversation.
Moderators:
Big-Ken
,
DRACO
Time to create page: 0.066 seconds