Get ya cats out
benmcfadden

Topic Author

Moderator
Loose Lips Sink Ships
Posts: 12897
Thank you received: 878
jnet

Platinum Boarder
Posts: 7136
Thank you received: 182
jnet replied the topic: Get ya cats out
dexters cute
I love munchkins and scottish folds and hope to breed perhaps in future when we have no dogs. NOT together though scottish fold cross munckins are very bad breeding. Can cause alot of defomed legs and leg issues.
we need more cat on here
4 years 8 months ago
#343907
Please Log in to join the conversation.
benmcfadden

Topic Author

Moderator
Loose Lips Sink Ships
Posts: 12897
Thank you received: 878
jnet

Platinum Boarder
Posts: 7136
Thank you received: 182
jnet replied the topic: Get ya cats out
be careful though because it might seem like they dont care but often they do.
Like a few doors down from me they have a cat she is lovely; they got it because their friend was bored of her. However they split up and the woman moved out with the kids. The guy was out at work all day long hours and she got left outside, she had a shed to go in but she wonders around. Everyone said he was cruel and she was a stray but if you talked to the guy; that cat was the only thing keeping him going and he loves her to bits. Also cats tend to say hi like Diego he has his own chair in next doors garden and Marion even lets them in her house like the cats are her friends she is old lady and she talks to them its sweet and I glad she isnt a cat hater.
Often people do tend to get bored of cats though and kick them out its such ashame
4 years 8 months ago
#344071
Please Log in to join the conversation.
RoxyTheDog

Platinum Boarder
Love your Pets.
Posts: 3210
Thank you received: 166
RoxyTheDog replied the topic: Get ya cats out
I want to start my old computer and find pics of 'The Cat'. She never had a name and some people never even knew I had her. I adopted her from a friend who was moving away years ago, she was fairly old when I got her and lived for years after she moved in too. She HATED strangers that's why people never saw her, she never liked coming inside so she lived in a box under the house where Roxy couldn't get to. I tried bringing her inside many times but you could see she hated it and started to panic. I built a shelf outside the kitchen window where she had her breakfast and dinner, that was the only times she felt safe. She liked me and would drool like mad when I rubbed her head then put her ears flat and claw my hand if I stopped! She got older, I had to build steps up to the shelf to make it easier for her to get up to eat, her pointy teeth started to wear down so I bought softer food. I knew she was old and her time was running out so I planed to take her to the vet but before I could she just left one day and never came back. I looked everywhere but never found her. My Dad told me cats sometimes leave home to die so that you never find them, maybe it was right. Poor old thing
I only have one pic of her, I just found it. She's not a show cat lol but I thought she was nice...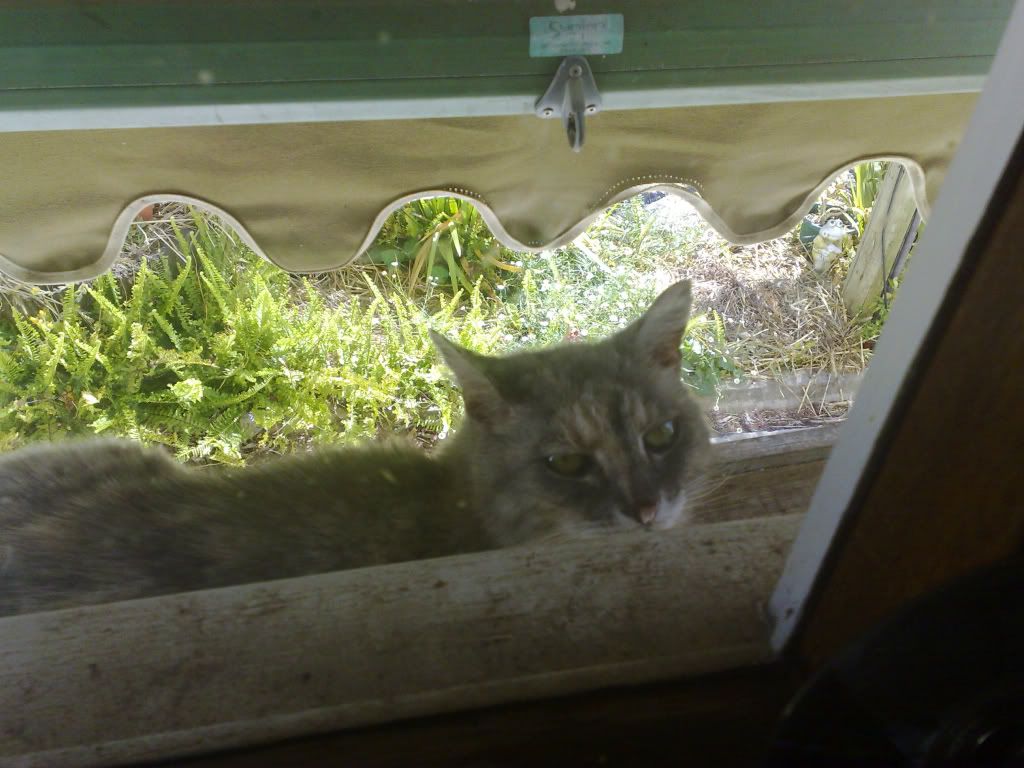 That's the kitchen window, she doesn't look happy there but I never seen a cat smile anyway.
---
The man in black fled across the desert, and the gunslinger followed.
4 years 8 months ago
#344171
Last Edit: 4 years 8 months ago by
RoxyTheDog
.
Please Log in to join the conversation.
Moderators:
Big-Ken
,
DRACO
Time to create page: 0.100 seconds