Oscar and tank size
mcnally101 created the topic: Oscar and tank size
Hi I just joined up on here, I have had a 3ft set up for a few months now with a mixture of everything. I just brought another 3ft set up and was thinking of getting an oscar maybe 2. Is a 36x18x14 tank to small for 2 oscars ? Thanks
3 years 11 months ago
#373806
Please Log in to join the conversation.
Suprd71

Moderator
Posts: 5983
Karma: 4
Thank you received: 590
Suprd71 replied the topic: Oscar and tank size
That tank is not big enough for even 1 Oscar. 1 Oscar requires a MINIMUM 4ft tank of 55gals and in less than a year will need at least a 4ft 75g with an 18in width. Welcome to OFL, please research in depth before considering an Oscar. Very rewarding fish, but has very specific requirements to live its possible 15yrs and achieve its growth potential of 14-18ins.
3 years 11 months ago
#373828
Please Log in to join the conversation.
face mcshooty

Senior Boarder
Posts: 466
Thank you received: 40
jmunroe

Gold Boarder
Posts: 1759
Thank you received: 195
jmunroe replied the topic: Re:Oscar and tank size
Welcome to OFL. No, you won't have a year or so. Oscars grow very fast. It's hard to appreciate or under stand just how fast that little fish at the store can grow if you've never raised them before. If you got that tank, you'd need to get a bigger one right away and need to move it to the bigger tank in a month or so. So in the end it's a waste of time. Get the right size tank first.., then get the oscar. Only get one oscar unless you get a 6 foot 125 gallon or bigger tank.
---
Go do a water change - the solution to pollution is dilution.
3 years 11 months ago
#373841
Please Log in to join the conversation.
Peeps

Junior Boarder
Posts: 190
Thank you received: 10
Sosban Fach

Expert Boarder
Posts: 597
Thank you received: 18
Sosban Fach replied the topic: Oscar and tank size
Hi,
Just thought I'd throw something in.
Your tank is waaaay to small. Yes I know buying a tank of decent size is expensive......................thats if you go to a store. Theyy always charge a fortune.
That said you can pick one up without breaking the bank. I would suggest looking into getting a larger tank before you get your fish.
I picked up my 150 us gal for £80. Thats about $133 US dollars. Ive seen the same size tank on sale for over £1600 ($2672). My tank came without a stand or hood. Its got a few bit scratchs when you look closely and the seals were a little old. All of which are easily dealt with.
Heres a pic I took a few months ago. My stand and hood are very basic at the moment, but thats the beauty about doing this sort of thing yourself; I can rebuild/redseign them or upgrade them at a later date when Ive saved up my pocket money. The important thing is that I have healthy fish.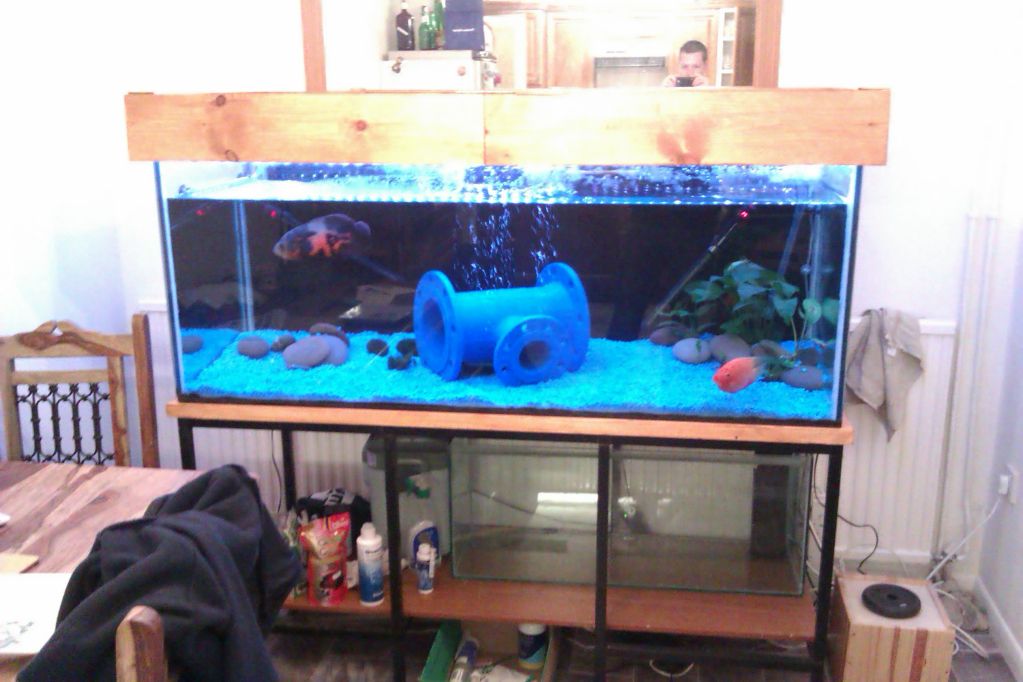 I originally kept mine on the floor for a couple of months, with just a plastic sheet as a lid.
If your a bit nervous about doing these things yourself, no worries thats what we are here for.
So don't fret just start looking on websites like aquaists classified, craigslist , ebay gumtree etc. I got mine from gumtree in the end,
Oh and search by distance and when you do find one check your measurements then hire a van if you need to. Make sure you can fit it in.
3 years 11 months ago
#373851
Last Edit: 3 years 11 months ago by
Sosban Fach
.
Please Log in to join the conversation.
Darth Nandopsis

User is blocked
Dark Lord of the Fish
Posts: 6163
Thank you received: 441
Darth Nandopsis replied the topic: Oscar and tank size
The answer to your question, as stated previously, is an emphatic
NO
. Stocking for cichlids, or any large fish for that matter, is based on adult size of fish. Oscars, even very small ones, need large aquariums, 55GL being absolute
bare
minimum, & even very small ones produce copious amounts of waste. If you have a 30GL, stock according to that, (Convicts, Firemouths, Tetras, etc) & save up for a bigger aquarium, or build one, if you are handy or know someone who is. If you place an Oscar in a 30GL, you are just setting yourself up for failure & your fish will get stunted &
VERY
possibly contract HITH/LLE.
I would strongly recommend you get a book on cichlids & their care; "The Cichlid Aquarium" by Dr. P.V. Loiselle is one I highly recommend.
Here's an article I wrote on Oscar care:
www.oscarfishlover.com/oscar-fish-care
---
THOSE WHO REFUSE KNOWLEDGE ARE DOOMED TO FAIL.

WATER CHANGES ARE THE LIFEBLOOD OF THIS HOBBY. IF YOU DON'T BELIEVE SO OR SIMPLY DON'T FEEL LIKE DOING THEM, RE-HOME YOUR FISH, SELL YOUR AQUARIUM & FIND ANOTHER HOBBY, AS YOU WILL FAIL UTTERLY, COMPLETELY, & MISERABLY.
3 years 11 months ago
#373852
Please Log in to join the conversation.
MetalHead88

Gold Boarder
Posts: 1028
Karma: 1
Thank you received: 60
Moderators:
Big-Ken
,
DRACO
Time to create page: 0.107 seconds